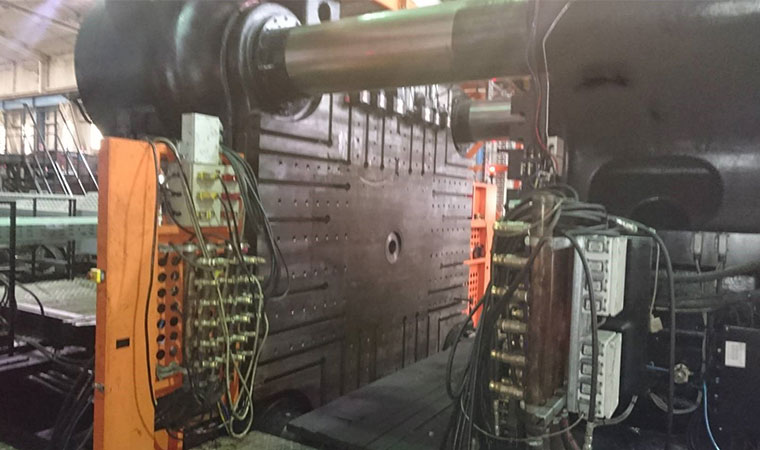 Installation of the quick mold change system on the 6500T largest injection machine in Australia
Hard case: Super large tonnage, all round modularization plastic injection machine
In order to meet the needs of the market and the demand of manufacturing automatic is increasing. We use our best to save time for the mold change and ensure the safety of the operation. Australia's largest and most respected dealers of machinery distributor had been cooperated with SANSUN several times. SANDSUN gets the chance to opportunity to participate this a major project with the Australia's Company. In 2018, our customer purchased a Chen Hsong's 6500T-the largest plastic injection machine. This 6500T plastic injection machine is using the advanced ultra-modular design to allow the user "mix-and-match" between the clamping and injection units according the needs. In order to meet the needs of the productions, our customer immediately thought that SANDSUN's quick mold change system can be perfect matched with the machine.
Past successful cooperation experience with quick mold change system wins the trust of customers
In the beginning, our customer questioned whether SANDSUN has the ability to complete this project. The main reason was they only used the quick mold change system for the max plastic injection machine only 2200T but this time is 6500T. However, our customer considered the experiences of using SANDSUN's quick mold change system really improved machine productivity and product quality. Therefore, our customer trusts SANDSUN and decides to let SANDSUN to perform this project. During the process, SANDSUN always discussed and checked the details of the drawing carefully and constantly with our customer until the end. After that SANDSUN's engineers flight to Australia for installation and training to make sure our customers could be more relief in use.
Continue to improve the quick mold change for injection machine
Thanks for our customer from Australia trusts SANDSUN's professional. Although the benefit of investment in quick mold change cannot be seen immediately, the effect would be obvious after a period of time. As the mold change system not only saving mold change time but also improving production, reducing labors costs and work more safety. All of the goods would be over the cost of the investment.
【More detail about Quick Mold Change System】