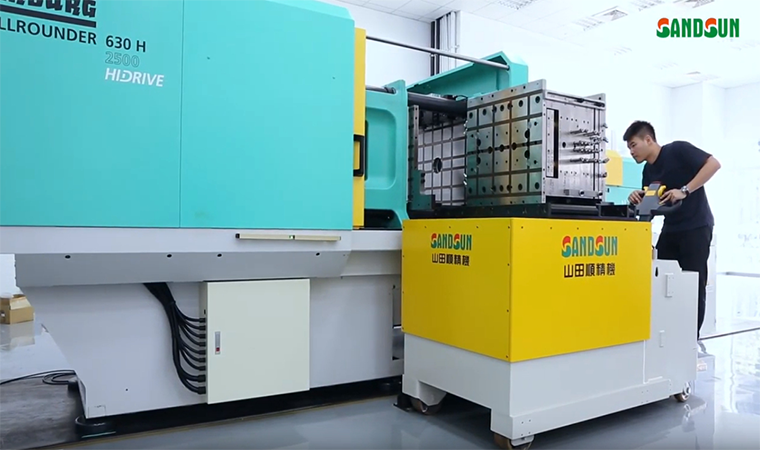 How to complete the mold change easily and without a overhead crane?
It turns out that you can also use the mold cart and quick mold change system to change the mold when the factory does not have a overhead crane!

In June 2018, Moldex3D, a well-known mold flow analysis software company in Taiwan, purchased a mold change cart and quick mold change system from SANDSUN to solve the problem which is no overhead crane to change molds due to site factors. Due to use SANDSUN's system, Not only It saves more time and improves production efficiency, but also improves the safety of personnel changing molds, comparing to traditional mold-changing methods.

Moldex3D is a well-known Taiwanese mold flow analysis software expert. When the injection machine was first purchased, the mold-changing method was not considered. When the machine arrived at the show room, it was realized that the mold could not be changed smoothly. Fortunately, it found SANDSUN, who can provide better and easier solution to its limitation of show room.

In this cooperation, Moldex3D engineer Tim also shared with us: In addition to solving the problem that we can't change the mold properly without a overhead crane, the "side-to-side" mold change method also makes it easier and faster for us to change the mold. It makes our job much easier and safer.

Because our staff is not a professional operator of plastic injection products and there is no professional mold change worker, we are very new to mold change operations. According to experience, general mold change operations take at least 30-60 minutes. Since we use SANDSUN's mold change cart and quick mold change system, it only takes 10 minutes to complete the mold change, and the efficiency is increased by 50-80%. Even non-professional mold change people can easily complete the mold change work. With SANDSUN mold cart and quick mold change system, there is no need to worry about mold-changing problems in the future. In the future, new molds will also develop standard back plate to use the mold change carts and quick mold change system. To prepare for automatic mold change earlier.

This case successfully helped the customer to solve the problem of mold change and injection molding tool carts , and also made the customer affirm SANDSUN's professionalism. SANDSUN always supports customers to solve problems and improve production efficiency, and assists customers to move towards the trend of Industry 4.0.
Case Video Link:
Check more detail about mold cart system:
https://www.sandsun.com.tw/en/product_sub_mold-cart-system.html